Class Act Dance Troupe, Inc (CADT) was formed in 1986 to provide students with additional opportunities to utilize their training by performing for various events, organizations, and participating in competitions. CADT is a not-for-profit corporation consisting of a senior, junior and petite troupe, with members beginning at age eight.
Class Act Dance Troupe provides a creative outlet and unique opportunities for our students that can't be found anywhere else in the Warsaw, IN area. The troupes have performed for the Harlem Globetrotters, Disney World, and at a variety of local events. They have received multiple awards at both regional and national competitions.
Troupe members are selected each May through an audition process based on stage presence, the ability to learn combinations quickly, execution of steps, and attitude. Each season the troupe members create lasting memories and lifelong friendships as they rehearse, travel, and share their love of dance.
Dance troupe members also rehearse five hours per week in addition to their weekly classes and hold an annual performance each spring at the WCHS Performing Arts Center. CADT provides unique opportunities to our students that cannot be found anywhere else in the area.
CADT is available for performances throughout the area. If you would like more information or to schedule a performance, please contact Tammy Seibold via phone at (574) 267-7055 or by emailing CADT@collierdance.com.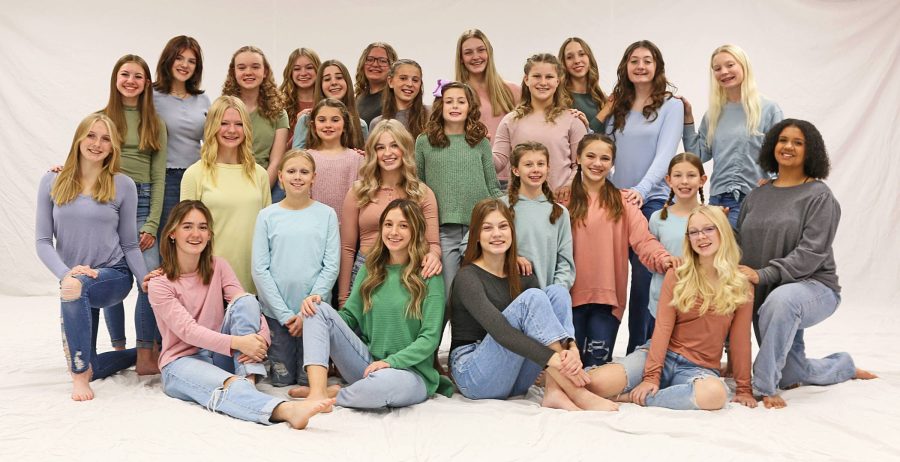 Upcoming Performances
One Warsaw Community Event, Downtown Warsaw: Saturday, September 23, 5:30p
Class Act Dance Troupe Sponsors
Supporting CADT with an individual or corporate sponsorship provides additional opportunities to the students as well as exposure and awareness of your organization and your commitment to the arts. Class Act Dance Troupe would like to thank the following financial supporters for their generosity and support of our scholarship fund.
Enriching the Arts
Gifts of $1,000+
AJ Coil
Amy Thompson
Joe and Debra Collier
Arts Advocate
Gifts of $250 – $999
24/7 Cars
Craig & Carol Allebach
Dental Solutions
The Flexaust Company
Fraternal Order of Police Lodge #149
LulaRoe Julie Wilkson
Kruggle, Lawton & Company
Leaders Staffing, LLC.
Mike Gill Auto and Truck Parts
Miller Sewer and Drain, Inc.
Parker & Sons Equipment
R&R Parker Farms
Recon Company, LLC
Shoe Carnival
Wander Home Realty, LLC
Wildman Business Group
Zimmer Biomet
Supporter of the Arts
Gifts of $100 – $249
3G Concepts, LLC.
Alderfer Investments
Arts Country Park
Best Deal Auto Sales
The Blue Heron Guesthouse
Chapman Jewelers
Crouse Body Shop
Roger & Risa Crouse
Earth Design Landscape
Eastlake Skate Center
Ashley Finney
The Hairitage Company
The Hope Link
Rhonda Hoskins
Indiana Antique Company
Infinity Salon
Intermeraclean, LLC.
LuLaRoe Jenny Finley
J.B.'s Furniture
Marc & Janet Johnson
Richard Kerr
Kosciusko County Sheriff Office
Kosciusko REMC
MLK Rentals
Maple Leaf Farms
McHatton-Sadler Funeral Chapel
Gary & Tanya Miller
ML Working Solutions
Dan & Mary Lynn O'Brien
Orizon Real Estate
The Owens & Welker Family
Poly-Wood, LLC.
Quick Clean Laundry
Rabb Water Systems, Inc.
Reinholt's Town Square Furniture
RMC Lewis Holdings, LLC
Roann Renegades
Jeff & Alicia Rufner
Trudy Rule
Schisler Trucking
Smith Appliances
Splendor Boats
Stafford Solid Waste
Taylor Strong
Turner Valentine, LLC.
Uptown Chiropractic
John Urschalitz
Wander Home Realty
Warsaw Party Rental
Monte and Julie Wilkinson
Friend of the Arts
Gifts of $50 – $99
Air Fixtures
Adrian Adams
The Blue Heron Guest House
The Bowling Alley
Brian Peterson Real Estate
Jeanne Burgh
Joyce Cain-Latta
Collin Clark
Deli N Dough
Diva Wraps
Edgewood Dental
Vikki Feldman
Financial Fitness
Hartzler Farm
Manda Gaerte
The Gephart Family
Scott Gingerich
The Great Wall
Richard & Carol Huffman
Fred & Linda Hurd
J.B.'s Furniture
Johnson Chiropractic
Kathy Hamman Realtor
Bill & Serita King
Mick & Lisa King
Kona Ice
Hunter Kreft
Lake City Motors
Lake City Place Senior Living
Lake City Rental
Lakeside Family Dentistry
Susan Langohr
Mason Health Care
Ron & Teresa McConahie
The Midwest Tan
Tanya Miller
The Olive Branch
Pat's Properties
Pill Box Pharmacy
Ruoff Mortgage
Wes & Julie Runnells
Silver Lake Small Animal Vet Clinic
Specialty Amusements, LLC
Stone Ridge Landscaping
Deb Strombeck
Laurie Tatich
Take Action
Gary and Julia Teel
Amy Thompson
Tips Hair & Nails
John & Holly Urschalitz
Warsaw Family Eyecare
More Information
Helpful Links & Resources