What starts with a simple dance class can take you to amazing places. For Ashley (Dirck) Miller, her path included a trip to perform at Superbowl XLI as a Colts Cheerleader. Ashley began at DCSD when she was five years old and was an integral part of Class Act Dance Troupe for eight years, traveling with the troupe to Nationals in Myrtle Beach, SC and numerous other events.
Following graduation, Ashley was an Exercise Science major at the University of Indianapolis, where she was part of the dance team for two years. While continuing her education for her Doctor of Physical Therapy degree, she became a cheerleader for the Colts for four seasons. During this time she participated in such events as Christmas caroling at Methodist Hospital, representing the Colts at the Brickyard 400 and cheering at Lucas Oil Stadium.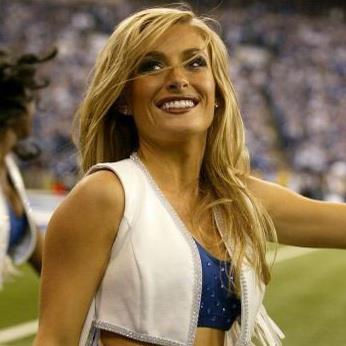 Life has brought Ashley full circle as she is raising her twin boys and twin girls (yep, two sets of twins!) with her husband, Mitch, here in Warsaw and working as a Physical Therapist in Ft. Wayne.