The climax of each season is our annual recitals. An occasion to celebrate the accomplishments of our students as they take the stage in front of their friends and family. But when a pandemic hits how do you accomplish such a performance? That is the question our staff faced this spring. Knowing the hours of hard work, the efforts to learn virtually, and the perseverance our students had given, we knew we had to find a way to honor their dedication.
As our staff gathered in the far corners of a studio, armed with masks, we took to the task of finding a solution. Hours passed as we gathered information, discussed options, and trudged through mounds of red tape. After learning many public venues were not renting their facilities during the pandemic our options were limited. We knew we had to find a space large enough to provide social distancing and accommodate an area to dance too. What about the surface to dance on? What about a changing area? Our standard format for the recitals, with volunteers, students waiting in dressing rooms, that was not going to be an option.
Lakeland Christian Academy became our partner in making a solution possible. Their staff had already put protocols in place that allowed us to feel confident in renting their facility. They were wonderful in allowing our staff to walk through the school as we planned out the best approach to keep everyone safe. From social distancing our audience, to making accommodations for the dancers changing costumes, each step had to be carefully planned to assure the safety of our DCSD families and our staff.
But how do dancers perform on a gym floor? What about the tap dancers? Miss Deb and her husband, Joe, traveled to Chicago to purchase a Marley floor. Miss Claire, Miss Deb, Miss Grace, and her brothers, then proceeded to spend hours cleaning and prepping the Marley floor for use. After it was transported to Lakeview and secured to the floor, the colors from our studio floor were replicated for the dancers.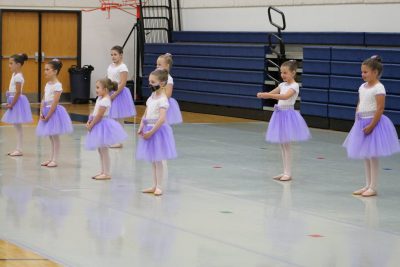 With the dancers' floor in place our staff then moved on to social distancing the audience. How to allow families to feel safe, yet still see their dancer, that was our challenge. We had to assure that the videographer had an unobscured view also, as the plans to live stream the performances were in the works too. Our only way to assure we had enough space for social distancing was to limit the number of audience members permitted. So measurements were taken, calculations completed, and we arrived at the number we could safely accommodate and still remain under the limit the state had put in place.
Throughout all the planning, we had to find a way to communicate the details to our DCSD families and let them know what we needed from them to make this adventure work. Without the cooperation of our families, all of the planning in the world could not make it happen successfully.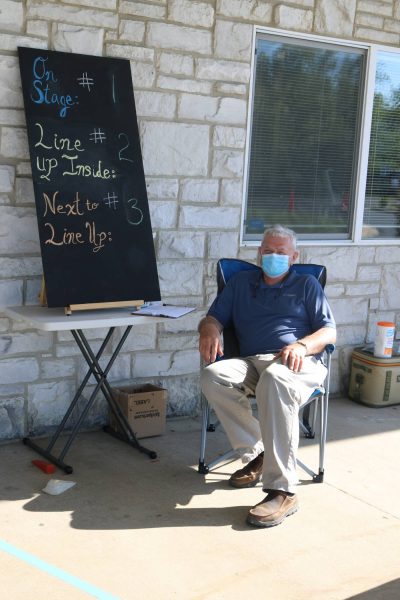 Throughout the planning our staff returned to the far corners of the studio, tables in place, computers powered up, to take on each and every aspect of the events. From cleaning protocols to live stream setup and so much more, we were determined to make it happen for our students. We were thankful for the help of Winona IT in setting everything up for the live stream! Although as updates on the progress of the pandemic continued to pour in it did often leave us anxious, Miss Deb had clearly stated from the beginning that giving up was not an option and our staff was 100 percent committed to making the performance happen.
The following video shows highlights from the weekend and as you will see, our dancers were delighted to be able to show their hard work and accomplishments!