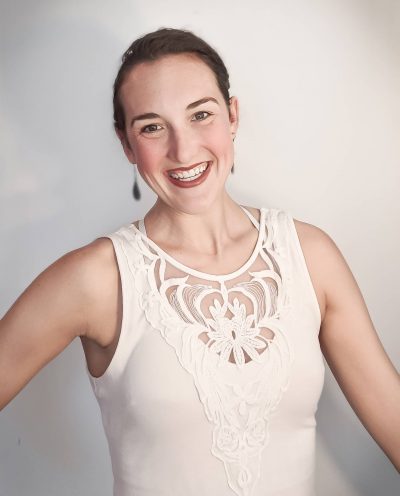 One of the most exciting things about our summer schedule at Debra Collier's School of Dance is that we get to bring in a guest instructor! This year we are hosting Caitlin Haywood from Columbus, IN.
Caitlin is a dance instructor at The Dance Company in Indianapolis and began dancing at a young age. In high school, she represented the United States in Reisa, Germany in the World Tap Dance Championships. She graduated from Point Park University with a Bachelors of Fine Arts degree, concentrating in Modern and Jazz Dance.
Caitlin has danced and choreographed with The Pillow Project (PA), Chicago Tap Theatre, Harvest Chicago Contemporary Dance Festival, Lake Eden Arts Festival (NC), and Chicago Freelance Dance along with many other companies and festivals. As a respected adjudicator with the American Dance Awards, she also enjoys teaching as a guest instructor at studios (just like ours!) and dance conventions throughout the country.
At her home studio in Indianapolis, Caitlin teaches all styles of dance at every level and is also the director of the RhythmWorks Integrative Dance program.

Meet Caitlin
Learning From A Guest Dance Instructor
Our studio always provides professional training to our students through our outstanding permanent faculty members. However, we also believe it's important to introduce our students to additional dance instructors they don't have access to during the school year.
When our students are exposed to different teaching styles from guest dance instructors, it can help expand their own versatility as dancers. If your child is interested in a career in dance, guest instructors also provide a unique networking opportunity for them.
Benefits Of Learning From A Summer Dance Guest Instructor
Your child can become motivated in new ways to keep practicing as they aspire to excel in dance.
It's fun! Dance workshops can be energizing and challenging in new, enjoyable ways.
Dancers can feel comfortable trying new techniques and methods in an environment they're already used to.
We specifically invited Caitlin to teach at our studio this summer because she loves being a formative part of young dancers' training. Sharing her love of dance with students of all ages and abilities is her passion.
We are always committed to helping our dance students achieve their goals. Part of doing that is to expose them to new choreography, teaching styles, and methods guest instructors like Caitlin bring to our studio.
Come Dance With Us
Caitlin's summer dance workshops are the perfect way for your child to experience a new style of dance instruction in an environment where they are already comfortable. Our one-day dance workshops aren't offered any other time of the year, so make sure your child doesn't miss out on the opportunity to learn from Caitlin!
One-day workshops with Caitlin begin on June 30, 2020, for students ages 9 and up. Register now so your child can enjoy exciting classes in tap, modern dance, turn technique, and jazz this summer!
Why attend a summer dance workshop?
Summer can be a busy time for most of us, full of vacations and activities, so why add summer dance to your schedule? Summer dance sessions can give students the opportunity to work on specific techniques they might not have time to try during the regular dance season.
Summer workshops can also give dancers the opportunity to hone their skills, allowing them to dance at an even higher level during the school year.