The Chicago National Association of Dance Masters (CNADM) offers a variety of amazing opportunities for both of our dancers and teachers to grow and hone their skills.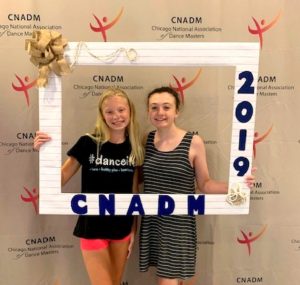 Training for Dance Instructors
Our staff can step out of their usual role as a dance instructor as they attend the CNADM Training School. This instructor-only program helps teachers advance their skills through technique and educational theory. Having the opportunity to learn the newest teaching techniques and choreography keeps us all inspired and eager to share our knowledge with our students.
Dance Class Opportunities For Students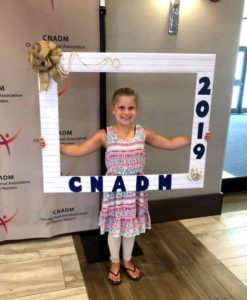 Ballet Forum
This class is an amazing five-day ballet intensive where students are immersed in the world of classical ballet, sprinkled with variations, character work, modern, lyrical and more. Students can learn newly commissioned choreography and perform at the Ballet Gala at the end of the week.
Completion of a placement class ensures each student is placed in the appropriate level within the Ballet Forum where they will be challenged and can excel. Receiving instruction from a diverse staff of professional classical ballet instructors from around the world gives students a unique experience they cannot find at any other workshop.
Dance & More
Just down the hallway from the Ballet Forum is another opportunity for dancers age 16 and older who want to pursue a career in the field of dance. Dance & More features classes designed to help your student explore their options within the diverse world of dance. They will learn artistic choreography and perform at the CNADM annual awards banquet. Dance & More is packed with experiences your advanced dancer can use to broaden their knowledge and push themselves as a dancer.
Additional Programs
CNADM continues to offer more programs as this annual event approaches.
The Convention
Dance instructors can attend The Convention, which gives them fresh choreography from master teachers.
Student Sessions
There are seven different levels in the Student Sessions; each of them filled with techniques and choreography to expand your dancer's knowledge and build their skills.
Wrap-Up Rally
At the end of the week there is a wrap-up rally that unites the dance instructors and students to celebrate, see fun performances from advanced students, and learn from faculty performances. The rally is the perfect ending to a week-long experience of dance, friends, and fun!
Hear from this year's attendees:
What keeps you coming back to Ballet Forum each year?
"I love performing at the Ballet Gala. Learning the choreography and having a chance to perform in the same week is exciting." ~ Abi, Ballet Forum Attendee
"I like to push myself and I like to learn. CNADM gives me the chance to do both." ~ Aly, Ballet Forum Attendee
What makes CNADM different from other conventions you have attended?
"CNADM focuses on education, technique and theory, not just dance steps. From the Training School for our staff to the Student Honors program for our students, everything is designed to expand your knowledge as a dancer." ~ Miss Claire
You do not normally take tap and jazz. Was it hard for you to take those classes?
"Not at all. Jay Fagan (tap teacher) was so encouraging and positive, it made it fun. And jazz was a blast! Many of the things I have learned in ballet, modern and contemporary carried over into the other styles and made it easy for me to pick up the choreography." ~ Emma, Student Session Attendee
What do you feel you gain most from Student Session?
"I get to learn so many styles of dance and from so many different teachers. I like gaining confidence to step into the front and really try everything. The faculty at CNADM is really encouraging to try things, even if you're not perfect. They just want you to learn." ~ Lauren, Student Session Attendee
Join us at CNADM November 2 & 3, 2019 for the Fall Workshop!