Do you have a toddler who loves to dance but also struggles with separation anxiety? It's completely natural for your little one to want to stay with Mom or Dad while experiencing something new. That's why our studio hosts a Mommy & Me toddler dance class!
What is Mommy & Me?
A Mommy & Me class is an introductory toddler dance class where a parent or guardian joins them during their dance class. Mommy & Me classes introduce toddlers to our studio and make sure they feel comfortable learning to dance with us before trying an independent class like our Tiny Stars experience.
Parents and guardians are encouraged to dance along with their toddlers during Mommy & Me and our class is available to children ages 18 months to 3 years.
"My girls love coming to dance class. The littlest girls ask almost daily if it is their turn/day to go. They have fun dancing and moving around. The staff takes time to nurture and teach each child, plus has gotten to know our family throughout the years. We have made many friends (kid and mama friendships) in the studio classrooms and lobby areas. Being at the dance studio has helped the kids grow in gross motor, coordination, confidence, and self-esteem."

– Megan V. (Parent)
Benefits You Can Experience While Dancing With Your Toddler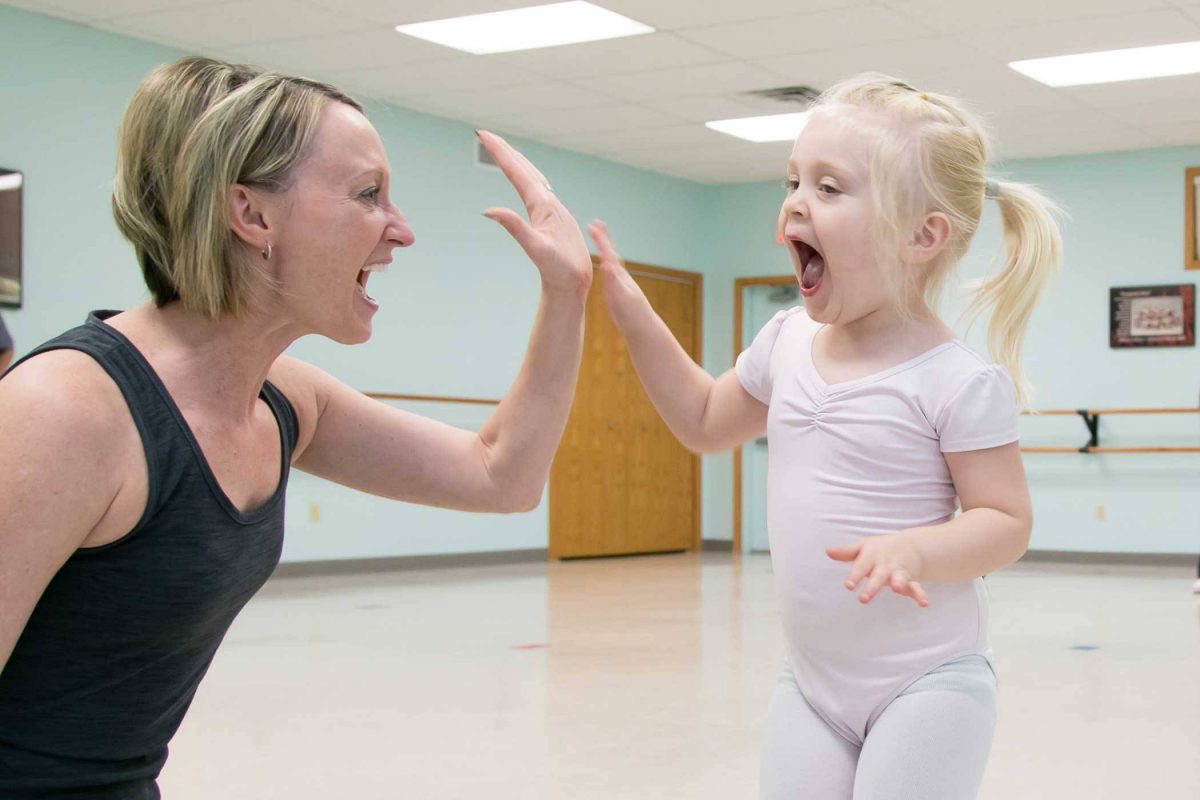 Bonding Time Between Parent And Child
Mommy & Me classes are created to foster a special interaction between you and your toddler. It's a way to spend one-on-one time with your child doing something new and enjoying the freedom of movement together.
Improved Mental Development And Physical Motor Skills
Dancing is a great way to help your toddler improve both their mental development and motor skills! Dancing helps your child develop muscle strength, stronger physical and mental reflexes, and a longer attention span. As your child learns new movements and tackles challenges in dance class, the confidence they gain will transfer to other areas of their development.
Learning How To Make Friends
Dancing with your child in a toddler dance class like Mommy & Me creates a safe space where they can explore how to make friends with other children their own age. It can also help introduce your child to new people, sights and sounds key to helping them develop healthy social skills.
Understanding The Classroom Dynamic
Most toddlers don't have much experience in a classroom where they are expected to follow rules and listen to a teacher. Our Mommy & Me class can be the perfect way to introduce them to classroom expectations for the first time in a fun, comfortable environment.
Whether your child goes on to enjoy activities in dance, team sports, or other areas, Mommy & Me dance class can give them a valuable head start. Your toddler will begin to learn how to move with a group of their peers, follow directions given by a teacher, gain self-confidence, and most importantly…have fun moving their body!
Come Dance With Us
Just because our class is called "Mommy & Me" doesn't mean we don't welcome dads or other caregivers who want to dance with their toddlers. If you have a toddler ready to experience the joy of dance with us, call our studio or click here to register for our next Mommy & Me session!